The Marketing Masters Summit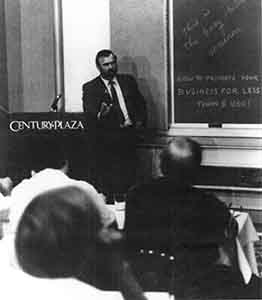 Gary Halbert's Birthday – Lost Swipe File
On June 12th 1938 Gary Halbert was born.
We thought we'd do something special to celebrate his 83rd Birthday.
Looking around we couldn't find the original ad Gary wrote to promote one of his very first seminars. After searching for hours we finally found the ad in the Los Angeles Times newspaper archives.
We've decided to share this lost ad with our loyal subscribers… You… absolutely free.
We Went One Step Further…
We decided to go into our vault and offer the original audio recordings of that epic seminar(streaming only!).
This includes amazing presentations not only given by Gary but also experts like:
Michael Gerber
Joe Sugarman
Rick Neiswonger
Becky Lebeau
Geoffrey Scott
Nancy Jones
Eric Weinstein
Hanes Brinkley
Mark Stoddard
Marvin Stessel
Gerald Becker
Tracy Tilson
John Finn

These recordings include Hot Seat Trouble Shooting Sessions for 15 seminar attendees!
These original recordings were 24 Tapes in all.
We've gone a step further…
We know these are hard times for many… So we've decided to make this a subscription offering that you can… if you stick with your subscription all the way to the end… keep permanent access… but… if you unsubscribe before reaching the end of the program… you will lose access to all previous weeks.
Again this is Streaming Audio Only!
If at any time you are unhappy you can unsubscribe and you can reach out to us and ask for a refund on your last week's subscription.
That's it that is our offer. Even if you aren't interested we hope you love reading this incredible lost masterpiece of Gary Halbert copy. Check it out below.
If you would like to subscribe to weekly access to these amazing audio recordings of a once in a life time event… Just $29.95/week for 24 weeks… you can use the subscribe button below.
Just $29.95/Week
IMPORTANT: When Click On Subscribe You Will Be Transferred To A Secure PayPal Page From This Non-Secure Page.
IMPORTANT: Please check your spam folder for login details.
After you've subscribed… you can LOGIN HERE. After logging in you can return to this page and scroll down and then you will see each weeks audio files appear on this page (below).
Happy Birthday Pop!
Peace,
Kevin & Bond
Click on the image below to enlarge the ad.
Week #1 Michael Gerber
Week #2 Gary Halbert
Week #3 Joe Sugarman Part 1
Week #4 Joe Sugarman Part 2
Week #5 Joe Sugarman Part 3
Week #6 Rick Neiswonger
Week #7 Becky LeBeau & Geoffrey Scott
Week #8 Nancy Jones – Gary Halbert
Week #9 Eric Weinstein
Week #10 Reginald Bogue(Hot Seat) & Neil Horowitz(Hot Seat)
Week #11 Dr. Manahara(Hot Seat) & Robert Cochran(Hot Seat)
Week #12 Bill Schmid(Hot Seat) & Haynes Brinkley(Hot Seat)
Week #13 Mark Stoddard
Week #14 Ashley & Cary Harwin(Hot Seat)
Week #15 Mike Kimmel(Hot Seat) & Michael Favish(Hot Seat)
Week #16 Julie Bale(Hot Seat) & Dan Farmer(Hot Seat)
Week #17 Marvin Stessel
Week #18 Tracy Tilson – Gary Halbert & John Finn
Week #19 Bob Boles(Hot Seat) & Howard Deutch(Hot Seat)
Week #20 William Pailey(Hot Seat) & Ken Kerr(Hot Seat)
Week #21 Craig Olson(Hot Seat) & David Bruce(Hot Seat)
Week #22 Randal Levenson(Hot Seat) & Jim Keppel
Week #23 Ford(Hot Seat) & Gerald Becker
Week #24 Gary Halbert